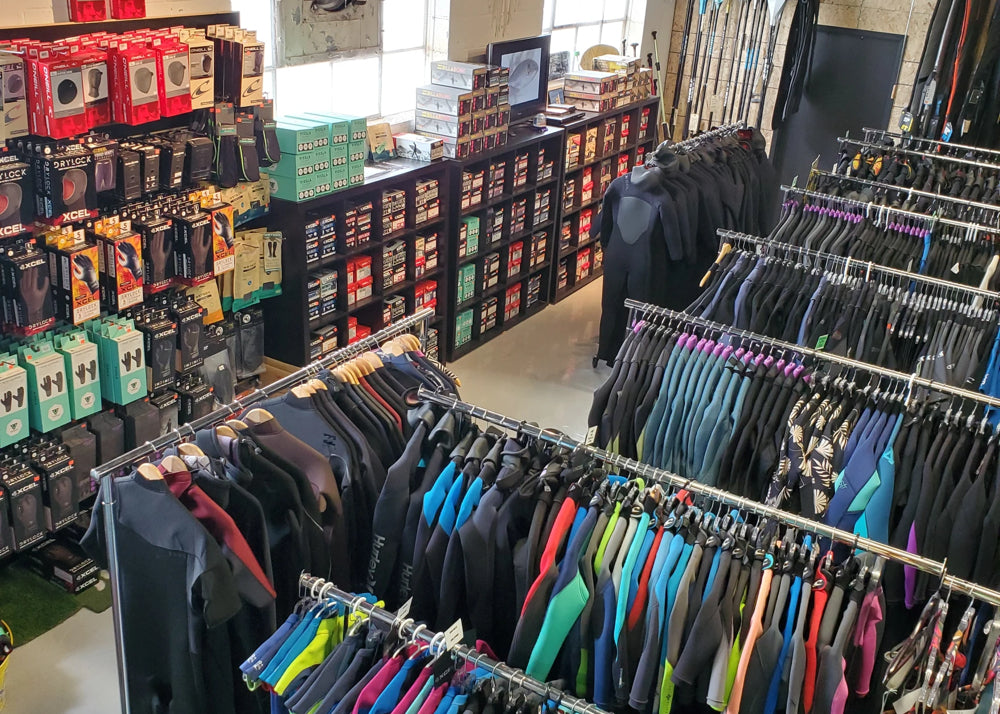 The Surf Ontario shop staff have over 100 years of combined Lake Surfing experience. Some of us have learned the hard way and together we know exactly what to wear and when. Here's a brief summary to help you know what to wear as the air heats up and the water temps lag behind. Although not listed below, 1 to 2 mm tops, shorts, socks or tanks can be used to fine-tune your wetsuit experience. 
If you're in Toronto or close by come by the shop to check out our vast selection and we'll help you get into the best wetsuit for spring, summer, fall or winter surfing in Ontario.
If you're out of town that's no problem we ship hassle free to the west coast of B.C. and the east coast Newfoundland and Nova Scotia. We ship everywhere in between too as Canada has many river surfers and travelling surfers: Quebec, Alberta, New Brunswick, P.E.I., Manitoba, Saskatchewan, Yukon and the N.W.T! 
Keep in mind everyone is different, however, if you want to stay warm and surf for more than 30 minutes, invest in the proper gear - it works, it lasts and it will get you in the water NOW! 
 March - April:
• 6/5/4 hooded full suit, 7/6 Billabong Furnace
• 5/4 hooded when air is warm
• 7-8mm boots - the water is still near ice cold
• 5mm gloves/mitts/lobsters 
 May - June:
• 5/4 or maybe 6/5 hooded full suit on Lake Ontario
• 5/4 or 4/3 hooded on Lake Erie and Lake Huron
• 3, 5, 7mm boots depending on activity - SUP or Surf
• 3-5mm gloves/mitts/lobsters depending on activity
• Flatwater SUP - just booties - but don't fall in :)
 July - August:
• Shorties, 4/3 or 3/2 or sometimes boardshorts & bikinis in August
• Sometimes 3mm boots Lake Ontario 
• Flatwater SUP - boardshorts or bikinis
 September:  
• most lakes shorty to 3/2 or 4/3 full suit
• no boots
• no gloves
• no hood - although a light hood can take the edge off on a cool Northwind
 October:
• all lakes 4/3 full suit
• 3-5mm boots
• maybe gloves
• 2-3mm hood likely
 November:
• all lakes 4/3 to 5/4 full suit with hood
• 5-8mm boots
• 3-5mm gloves or 5mm lobster gloves
• hood mandatory & usually attached to 5/4.
 December:
• all lakes 5/4 hooded, 5.5/4 hooded psycho or 6/5/4 hooded full suit
• 7mm boots
• 5-8 mm mitts/gloves/lobsters
• maybe thermal layer under 5/4 for added warmth
 January - February - Full on Winter Surfing:
• all lakes 6/5/4 hooded full suit, 7/6 Billabong Furnace
• maybe 5/4 hooded
• 7-8mm boots (wetsuit socks optional)
• 5-7 mm mitts/gloves/lobsters
WAX GUIDE TO THE LAKES
GENERAL TEMPERATURE GUIDE FOR WETSUITS
O'Neill wetsuits guide:
XCEL wetsuits guide: