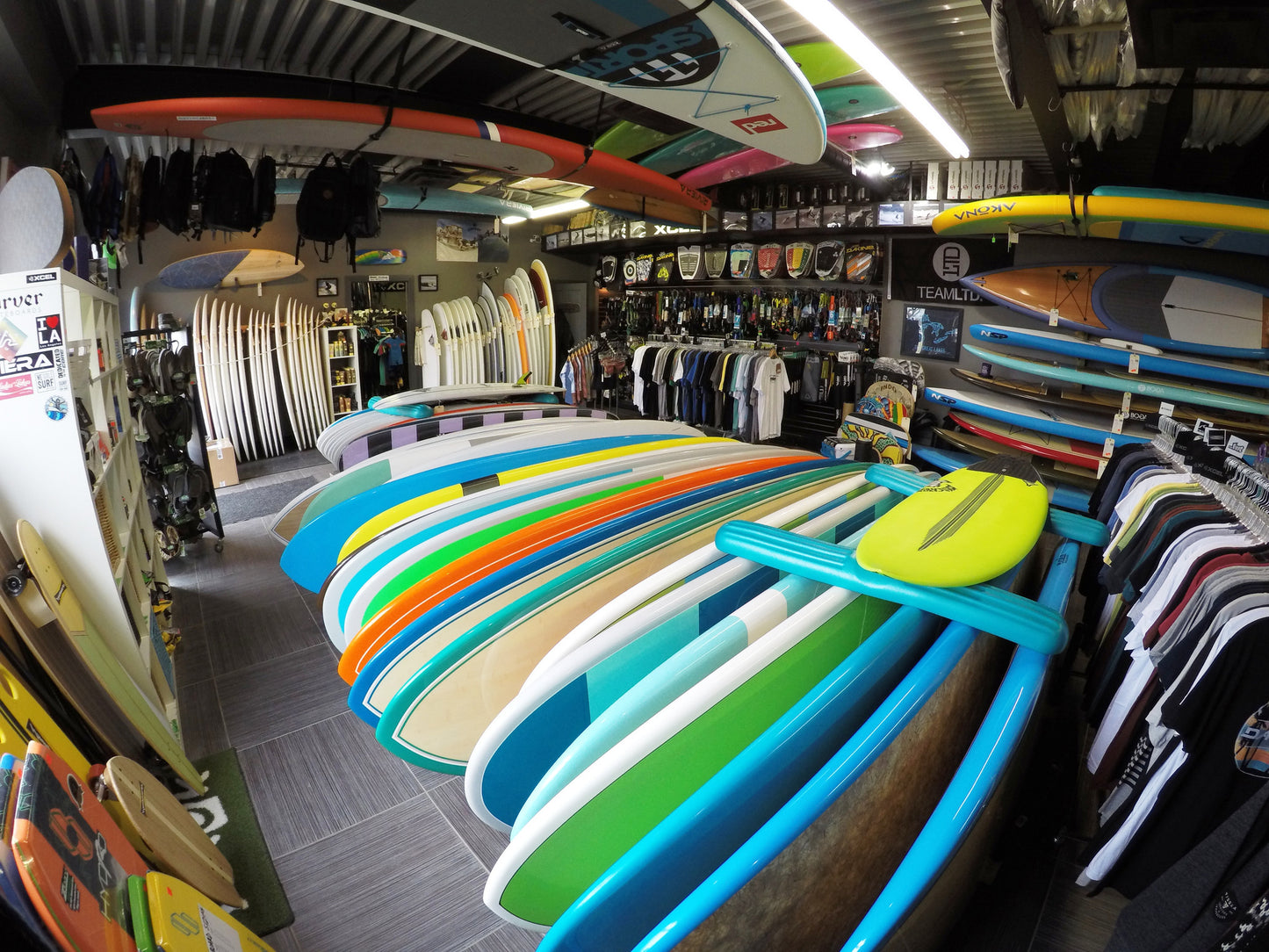 It was 2001 when Mike Sandusky learned to surf in Hawaii. Mike grew up on a pig farm near London, Ontario and played team sports before suddenly deciding to get lost in Hawaii over the winter to learn to surf. The following summer of 2002, Mike started teaching people how to surf on the great lakes and convinced his friends, family and anyone who would believe him that YES! they too could surf on the lakes - Surf Ontario was born.
Over the next 5 years Mike travelled and surfed extensively during the winters and taught surfing on Lake Erie and Lake Huron in the summer months. In 2007 he settled down in Toronto with his wife Whitney and got more serious about life and the business. With the help of his friend back home, www.SurfOntario.ca was created. This was a webpage to let people know that lake surfing was possible and that Mike would be happy to teach them.
Mike had a growing email list of "would be" students looking to get their taste of fresh water waves and he continued to teach in the summers when there were waves. But there wasn't always surf. Enter Grant Kennedy, South African surfer and web designer @durbanad.
Grant made a plea to anyone on www.originsurf.ca (at the time, the biggest online forum to connect Lake Surfers) to come out and paddle their surfboards with him for exercise. Of course, there were no takers except Mike, so Grant and Mike paddled once or twice a week to try and stay in shape. Grant thought the Surf Ontario page was cool and started to help with it in addition to helping Mike with his travel and fitness company.
Stand up paddling came along shortly thereafter and now Grant and Mike had a new way to stay fit that was much more fun. On their numerous paddles they discussed opportunities and realized that there was a need for SUPs and surfboards in Ontario. Grant, being the web designer, said "Mike, people out there are stoked for SUPing and surfing, why don't I set up an online store and you sell the boards from your garage?"  Mike said, "Sure!".  And in the spring of 2010, the Surf Ontario online store/garage shop was born.
They got their first order of NSP SUPs, which sold out quickly. That summer they ordered more and more boards and realized that they had a little business growing. In the fall they ordered a bunch of surfboards which ended up selling out before they had even arrived. They started off carrying Global Surf Industries SUPs and Surfboards as well as Firewire Surfboards.
The following summer of 2011 the Surf Ontario garage shop went off, shipments were arriving to Mike's garage weekly and Mike and Grant would spend the days unpacking and stuffing the garage with boards. At one point, a 53' tractor trailer showed up with boards to the residential crescent. 
To this day, Mike wonders what the neighbours thought?! The garage was stuffed with close to 100 SUPs and surfboards and every customer that came by wanted the one on the bottom. 
Mike and Grant sold many boards and shipped many across the country, however they weren't able to offer the complete experience in the garage; would you want to try on a wetsuit in a garage? Clearly Surf Ontario was outgrowing this garage style shop. Their friend Rob Baytor mentioned that a studio unit near his was available on Eastern Avenue in Toronto and that there was potential to use that space.
In fall 2011, Surf Ontario started renting this 500 square foot space with very high ceilings and no heat. It was a rustic spot but they knew they could cram in a tonne of boards vertically, it had the perfect back alley for skateboarding, and the price was right.
Not knowing how it might go, they opened a few days a week and got swamped! Help! With little time to recruit, Mike called up Robin Pacquing, a long time lake surfer, "Hey Robin, we opened a surf shop - want to help?"  Robin said, "Deal".  And just like that, Surf Ontario hired its first employee.
Over the winter Mike and Grant built up inventory and got ready for a busy Spring.  They also hired a couple more people: Duda (an intern from Brazil) and Elias Tobia (a local lake surfer who at the time could barely speak English). How could someone who doesn't speak English sell someone a surfboard you may ask? Ah, then you haven't met Elias. He is the most passionate surfer you will meet and the language barrier didn't matter. Elias could sell you a surfboard with a couple of words, his body language and a smile. That being said, he picked up English quickly and helped Surf Ontario for a few years before chasing his dreams in Costa Rica and starting up his own surf school: SALT - Surfing As Life Therapy 
Surf Ontario had a great summer and increased its product line immensely with many more accessories, skateboards and wetsuits. However this was another place which started busting at the seams.  They resorted to hanging boards in the hallway but that didn't fly with the neighbours so it was time to move on. 
Grant found a cool place on Sunrise Avenue with 2000 square feet that seemed like a good fit. By December 2012, Surf Ontario was now open at 100 Sunrise in Toronto. They filled the unit nicely and there was a separate space for storage and repair as well.
But with Mike's obsession for buying surfboards and SUPs, the space proved too small again. The next fall they had to rent another unit so expansion of the current floor space was possible.
Surf Ontario has kept its current units to date and even though they have more gear, they've found ways to use the space effectively. Mike and Grant have a great crew helping at the shop. As of spring 2017, their webpage has just been revamped to serve you better. Through it all, Surf Ontario has had the most incredible customers along the way and none of this would have been possible without YOU.  Hoping to create more stories and memories...
... to be continued