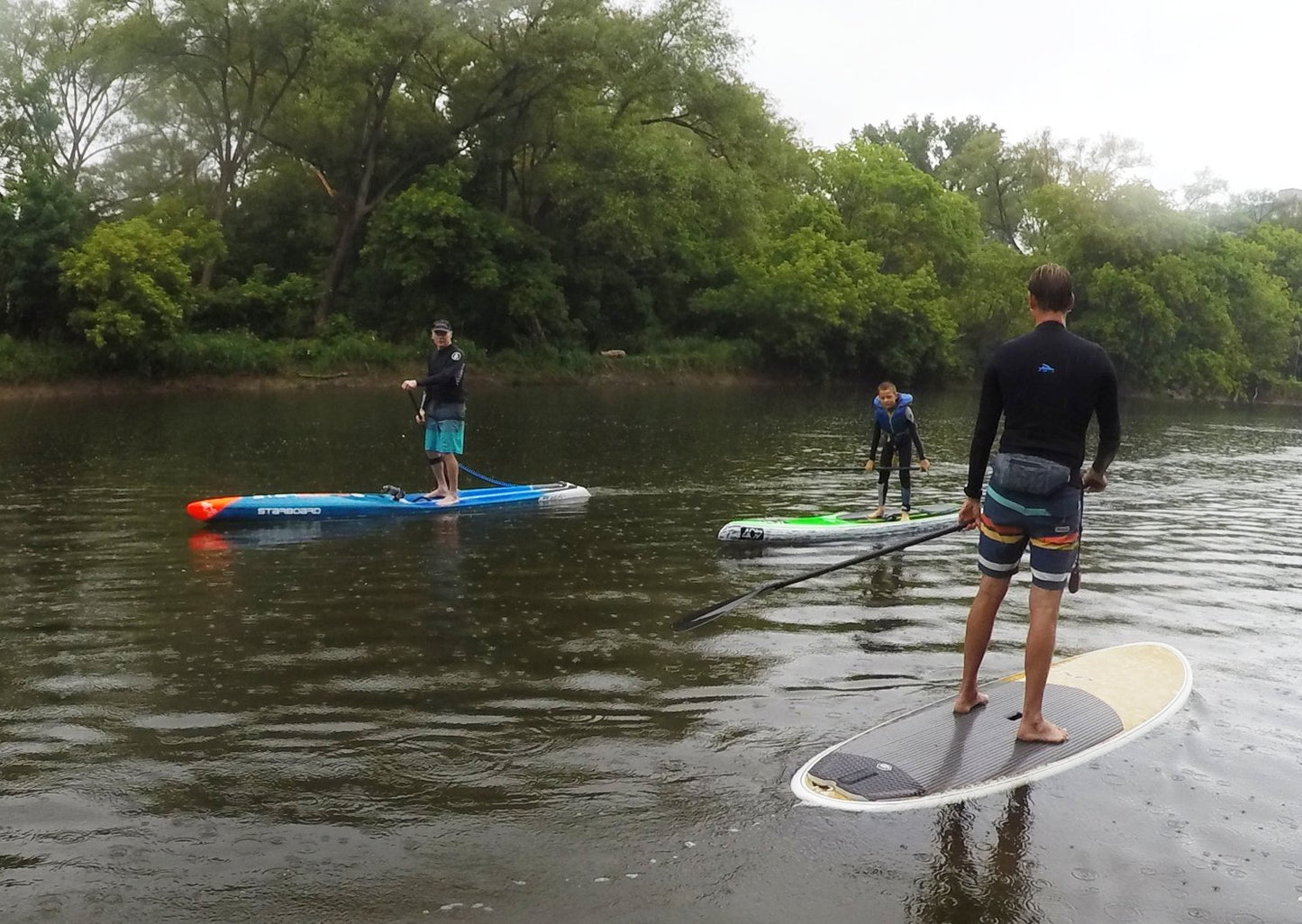 We changed things up for our 9th annual SUP4MS in 2018. After three 65km Hamilton to Toronto routes, one Woodbine Beach to Pickering route, and four Toronto Island routes, we felt it was time for something new - the Humber River route from Sunnyside Beach!! We also chose a new date, one month earlier in the season, which given the recent weather seemed like a great idea.
Our sign ups prior to the event were coming in quickly until the forecast became clear it would be a rainy Saturday. We had one sign up after Wednesday when typically most folks sign up the day or two before - only the hard core represented this SUP4MS!

We prepped for the paddle as usual and since there were no storms in the forecast, we knew a little or a lot of rain and wind wouldn't stop anyone. And it didn't! Of all the paddlers that signed up online, only two weren't able to make it and an additional few signed up at the beach - in the rain!

It was a test of character, will and attitude and we were all inspired because of the conditions and our will to paddle for reasons beyond ourselves - supporting friends and family that deal with Multiple Sclerosis on a daily basis.

Before we got started, there was a long line of boards placed carefully on the grass near the shore - it was like a giant yard sale of disowned boards. No paddlers were to be found - all were taking refuge from the rain in their vehicles until the last minute.
Around 8:45am Grant blew the air horn and 50 paddlers, clad in neoprene, rushed to the tent for the paddlers meeting to receive "vague" route instructions before we all set off up the river.

We sensed some nervousness and apprehension about paddling on a river in Toronto. That easily subsided once folks got out on the water and realized the river water was much warmer than the lake and that they were immersed in the beautiful surroundings of nature while in the city.
The route began on Lake Ontario inside the breakwall at Sunnyside Beach. From there we paddled west to the river mouth then north up the river while listening to the roar of traffic underneath the Gardiner Expressway. The sound of traffic gave way to the sound of rain peppering the water and birds chattering away. There were a few dragon boat crews training, muskrats, ducks, geese, swans and no bugs!
The river route, which meanders from Lake Ontario north to Bloor and back, is about 7km from the west lot. It should be noted it was fairly rough at the mouth of the river due to the east swell and wind, however all the paddlers handled the conditions with confidence.
The age range of paddlers was from 6 to 76 - it was an event for everyone. It rained steadily for the entire paddle but it magically ceased when the pizza showed up! We were able to change clothes and warm up, grab some food and everyone got a prize thanks to our incredible sponsors.
 
The top 3 fundraisers at the time of the paddle got their choice of prizes and then all paddlers got drawn randomly by the groms to choose a prize. Congrats to the top three fundraisers: Kristina Minard, Shazia Mazhar and Rory Kelly.
Thanks to our volunteers who really made the event run smoothly - great job! Our volunteer crew was a range of supporters from the community: Dana from the MS Society, my neighbours Neil and Debbie, SUPers Hugh and Shazia, surfers Aussie Steve and Sonia, and a former student of Whitney's, Kelly Gates.
As of today we have raised $7205 for 2018 and cumulatively $91,564.41.
Thanks for your support and we'll see you in 2019!
FCS makes top notch surf and SUP accessories and they provided prizes and swag.

Jimmy Lewis SUPs are some of the best constructed boards on the market and offer top performance. They're an annual sponsor and provided prizes.
Blu Wave SUPs is Canada's leading designer and manufacturer of SUPs. They're based out of Collingwood and are actively involved in all events in Ontario and beyond. They brought demo SUPs, prizes, and are annual sponsors.
Xcel wetsuits offer the best quality product that we trust for all seasons. They provided prizes.
A Canadian surf accessory distribution company from the west coast that provided prizing and support via Xcel and FCS.
Distributed from the west coast of Canada, these paddles are high quality and hand crafted in Thailand. They donated an awesome carbon paddle.
A company run by local paddler and surfer Geoff Austin. They make the best quality decks around, have satisfied over 22000 customers since 1995 and they're an annual sponsor.
Brothers' Coffee Roasters is a small batch coffee roaster supplying the GTA. They strive to supply the best roasted coffee. Brother's is run by New Zealand surfer Shaun Waitzer and is an annual sponsor.
Brain Power develops young minds with advanced after school learning programming. Owner Karine Rashkovsky paddles on Georgian Bay and Brain Power is an annual sponsor.